The Best Weather App for Truckers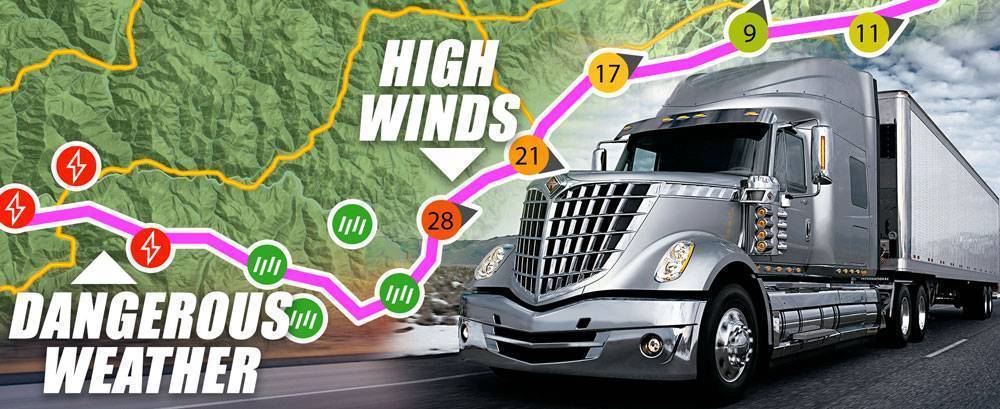 Drive Weather is the best weather app for truckers because its incredibly simple to use, it shows the forecast at each point of your route, and it lets you compare routes, and manage stops for the safest ride!
Drive Weather takes the guess work out of figuring out where and when the bad weather is!

"I use this every day for my daily trip planning. Very insightful, especially with wind gust estimates when I have light loads in heavy wind areas. Inexpensive for full function, easy to use. I recommend this app daily to people."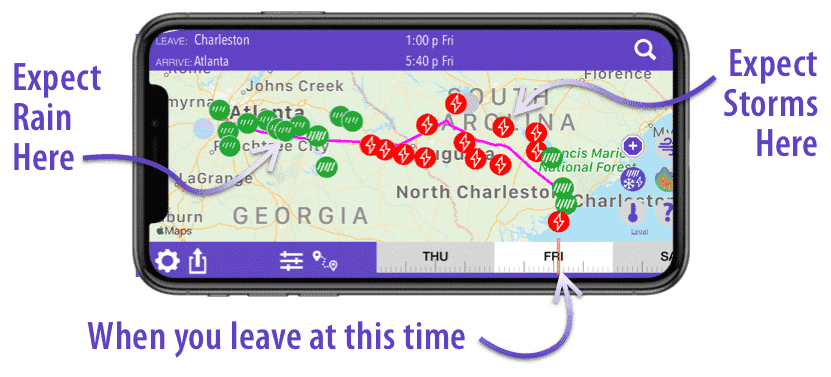 According to the US Bureau of Labor, trucking is considered one of the most dangerous occupations and weather plays a big factor why. Truckers are considered unsung logistics heroes because they can move merchandise and product anywhere that is basically driveable. Weather plays an integral part in making sure deliveries get accomplished in time in order to avoid any lags in the logistics and distribution piece.
Weather can be unpredictable and the routes that truckers have to take depend on the weather. Pre-planning ahead of the trip is key in making sure there are no hitches and inclement weather that can be dangerous.
Utilizing a weather app is key in making sure that deliveries are made on time and more importantly, making sure that truckers are safe and able to move the products efficiently.
What is the Drive Weather app?
Weather forecasting can be challenging especially when it can change day by day and sometimes even by the hour. When you drive for a living, making sure that the routes you are taking are safe and efficient is important in order to meet deadlines and deliverables.
Truck drivers rely on different apps especially because they are on the road most of the time and they need information at their fingertips in order to properly plan their route. Real-time information is key and beneficial especially when it comes to weather forecasts like wind speed, precipitation, and tornados that can affect road conditions.
When browsing through the app store either through apple or android, driving weather applications are plentiful. Because of the numerous options that you have to choose from, choosing the best one might prove difficult.
With the Drive Weather app, you are taking the guesswork on whether you are choosing the right one because it is the best weather app for truckers. It is available through either the app store or Google Play depending on whether you use an iPhone or an Android phone.
What are the benefits of using the Drive Weather app?
When you drive for a living, it is important to determine the routes that you have to take in order to avoid bad weather that can affect your driving and delivery performance. Each year, there are over 5 million vehicular accidents and 21% of these accidents are caused by weather-related instances. 
Because of this reason, truck drivers need real-time weather forecasts that can help them plan what route they have to take. This is where the Driver Weather app comes in because it can help with trip planning and provide push notifications so that you are getting the right information at the right time.
Here are the other benefits of using the Drive Weather app:
Real-time weather and route information


When you drive for a living, you are not only wary about road conditions but also accidents that might cause delays. Because the Drive Weather app shows real-time information, it can provide information regarding road conditions and weather conditions so that you can plan accordingly.

Weather awareness


Planning ahead before going on your route is important because it will enable you to picture the most efficient route to take. The Drive Weather app gives you situational awareness because it gives timeframes on when severe weather alerts will start and end.
The Drive Weather app pulls information from the National Weather Service and will send out real-time alerts for the following weather conditions: rain, snow, fog, freezing rain, thunderstorms, hail, smoke, and haze. It will also show you temperatures and feature an animated weather radar. All of this information is important especially if you are driving through different areas that might pose different weather conditions.
As truckers, you have to be ready for anything that comes your way and this includes difficult road conditions. With the Drive Weather app, you can minimize the risk of running into bad road conditions that might not be safe and utilize routes that are easier to drive in.
Safety is Number 1


Truckers understand that even small precipitation amounts can be detrimental to driving conditions especially if you are driving a big truck. Having unexpected weather will also catch you off guard. With the Drive Weather app, you are able to check out weather maps so that you can plan accordingly. Safety is the number one priority and this can be achieved by planning through different road conditions by using a weather app.




As truckers, coming home to your loved ones is an important thing and you can achieve a level of safety with the Drive Weather app that will give you and your loved one's peace of mind. By being safe on the job, you are also ensuring the quality of your job without compromising your own health.

Interactive feature


The Drive Weather app is highly interactive because it pulls information from real-time weather forecasts and road conditions. When you start driving, you can preview your route and when you need to stop, you can pull up truck stops that you can go into. This is really important in the trucking industry because sometimes you need to add stops and the app will let you do that and adjust the timeframe accordingly.
The interactive feature also suggests different routes that you can take and you can preview each route in order to compare and determine which one is the most efficient. If you need to make a stop, having this interactive feature will also help you calculate how far you are from your destination and incorporate any changes or stops that you make.
Drive Weather app is easy to use
As a trucker, you don't need to add any more complicated things to your life and profession. The Drive Weather app is user-friendly and easy to use which is a huge advantage especially if you are looking for a specific app that integrates the weather factor into traffic conditions. There are numerous trucker apps that you can use and including the weather channel app or Accuweather. What sets the Drive Weather app apart from these apps is that it will give you real-time traffic and weather conditions so that you can plan your drive accordingly or make changes to your route in order to efficiently make the deliveries.
With the Drive Weather app, you are taking the guesswork out of real-time route planning so that you can stay ahead of your schedule and at the same time be safe as you drive through inclement weather conditions. The Drive Weather app is available through the app store or Google play store. Download the app today so that you can see the difference that it brings to your trucking lifestyle.
See how easy it is to know the road weather conditions along your route!