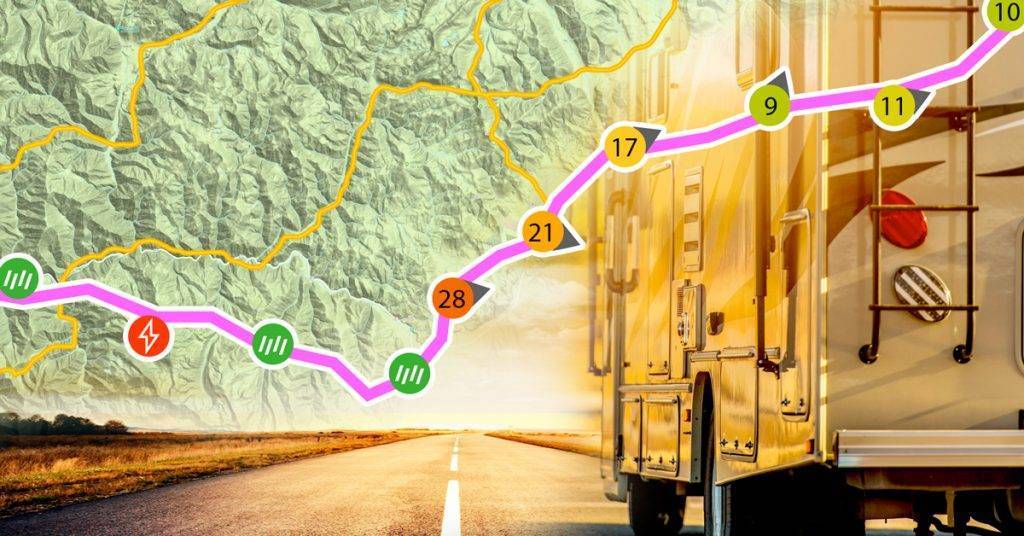 We've been on the road for six weeks RV touring the southwest. About 2 week in to our trip a fellow RVr recommended this app and we have been using it ever since. Its really made a difference for us. Sometimes we'll change a route or just delay travel for a day or just a couple of hours.

What is the Drive Weather app?
The Drive Weather app is an application that can be downloadable on your iPhone or Android phone and will display the weather along your selected route. It uses information from the National Weather Service and displays information and icons showing clouds, fog, precipitation, smoke, haze, rain, snow, hail, thunderstorms, and wind conditions.
Driving apps are either free apps or app purchases that enable you to get more functionality by paying money. The best weather apps include Accuweather which can help with trip planning when you are RVing or riding your bike. Google Maps is also a great option because it can help find campgrounds. RV parks and campsites.
The Drive Weather app also displays the radar image overlaying on the route which can show the severity of weather patterns which can range from light to heavy.
The app also features a slider that shows different weather conditions over a specified number of days. This is helpful if you are planning a trip and deepening on the weather conditions leave earlier or later than usual to avoid bad weather.
Having a dual view of weather and driving conditions is extremely helpful because you can elect to delay your departure time until the bad weather passes or schedule stops and time it from when the bad weather hits.
What are the benefits of the Drive Weather app for RVs?
Driving a recreational vehicle requires special handling and extreme caution just because of the sheer size and weight of these vehicles. The rate of RV death has an average fatality rate of 1/3 of all vehicle deaths in the US. RV accidents also account for at least 70,000 hospitalization incidents every year.
According to the RV Industry Association, 90% of RV-owning households take at least 3 trips each year using their RV. Since most RV owners spend their time on the road, calculating the routes and timing of their trip is important in making sure that they have a stress-free and easy drive to their destination. With this in mind, utilizing the Drive Weather app for RV driving is a must.


Here are the different benefits of using the Drive Weather app for your Recreational Vehicle:
When you are on the go and the road, there are many different instances when you have to stop either for a rest break or to eat. Ideally, you will be driving from point A to point B without any detours but that is hard to achieve especially if you are traveling with your family or friends. When you are using the Drive Weather app, it will allow you to make changes to the route and add stops as you go. When you make changes to the route, the app will recalculate the route and drive time accordingly so that you can see when you will arrive at your destination.
Since the application is downloadable from your smartphone through either the app store or Google Play, it will be available for constant updates when any changes provide real-time information. You can also get notifications if there are any anticipated route changes.
Plan your drive time around weather conditions
The interactive features of the app will also enable you to plan around weather conditions and you can easily switch between different routes which enable RV drivers to plan their road trips around weather changes and conditions. When driving an RV safety should be the top priority especially if you are driving your family.
Decision-making is crucial when it comes to driving in weather and because the app is intuitive, it can provide real-time information that is important when driving.
Enable RV Drivers to make quick decisions
Time is of the essence when you are driving to a destination. With real-time information, you will be able to make quick decisions when on the road because it presents a view of different routes and conditions that will enable you to make decisions.
The Drive Weather app will give you the information in a clear way to make decisions.
Inclement weather such as rain and thunderstorms can bring hazardous conditions to your ride. Because the app is interactive, you can take short breaks to let the weather pass without losing sight of your destination. With its interactive feature, you can resume your drive and it will calculate timeframes and different routes making it convenient to take short breaks. Fatigue also plays a huge factor in motorcycle accidents and you can take breaks to rest.
Rain and hail will also bring poor visibility especially if you are driving a bike. When the visibility is poor, you can make stops until the condition improves.
When you are driving a car or a vehicle, you are protected from the rain but the same cannot be said when you're driving a motorcycle because you are easily exposed to outside conditions. On the other hand, motorcycles provide great maneuverability, especially when driving on wet roads because you will have superior views.
If you are driving your bike and want to avoid wet roads, you can use the Drive Weather app to find alternate routes quickly. When you change routes, it will give you the estimated time of arrival so that you can make sure that you are still making a great time on your trip.
Safety should be the number one consideration when you are on the road especially if you are driving specialized vehicles like RVs and motorcycles. With the Drive Weather app, you can have peace of mind because it will give you the best route that takes into account real-time driving conditions and weather. With interactive maps, Drive Weather is a great app that will provide notifications for severe weather alerts and other important weather conditions that you might come across.
See Our Web Based Weather Pages
Download Driveweather App Today!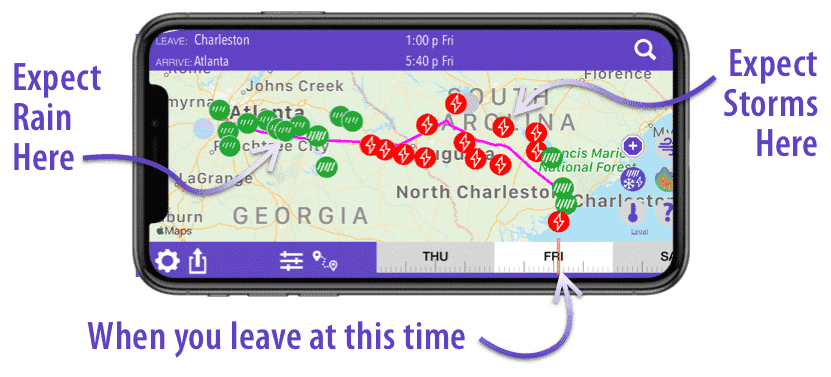 See how easy it is to know the road weather conditions along your route!