Big Island Loop Road Trip

If you are visiting Hawaii and are looking to take a short road trip to see a good portion of the island then traveling the loop that takes you around the southern end of the island is a good way to see much the Big Island has to offer.
Hawaii has a pretty constant temperature between the high 70s and low 80s most of the years so there really is no bad time to travel the Big Island loop, however during the fall the traffic is less hectic so the drive is more relaxing. While this is designated as a one day road trip you might want to make a long week-end out of the trip and make a few stops along the way.
To start the loop, you head out from Kailua-Kona and head out on route 11 towards the southern end of the island. Follow road 11 around to route or road 200 at Hilo and drive across road 200 to Mauna Kea.
This road trip will take you through some very diverse areas where you will see black sand beaches, lava fields, waterfalls, mountains and volcanoes not to mention some lovely flora.
Here are a few stops you will want to make along the way.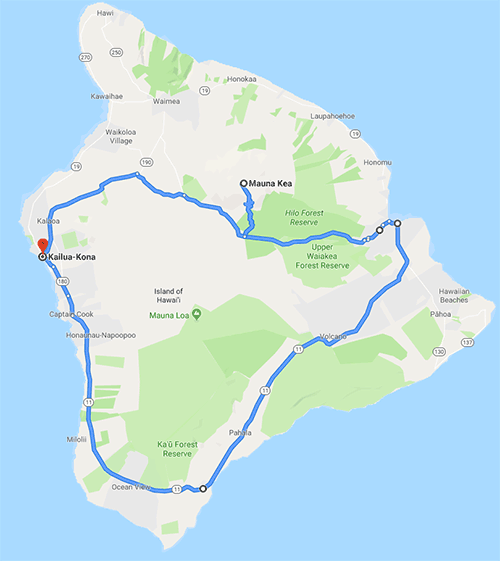 Kealaekua Bay– Just 12 miles from your starting point at Kailua-Kona Kealaekua bay is an archeological site and the place where Captain Cook was killed.
Hawaii Volcanoes National Park– If you are looking to see some real live volcanoes then a stop at this park is definitely a must.
Hilo– You could easily spend an entire day exploring Hilo. This Hawaiian community not only offers a museum, an a terrific farmer's market it also has the lush and beautiful Liliuokalani gardens, which features Japanese style fish ponds, pagodas, and rock gardens.
Wailuku River State Park– Wailuku River State Park is the home both Rainbow and Peepee falls. It also has the Panaewa Rainforest zoo the only rainforest zoo in the United States. This zoo has exotic animals worth seeing including a couple of Bengal Tigers.
Remember to wear comfortable clothing suitable for the warm weather and make sure you bring along snacks and plenty of drinking water to keep you hydrated while exploring this lovely scenery.
Hawaii does get some rainfall as well as a few misty mornings so make sure to check the driving weather before heading out.