The Perfect Musical Road Trip

If you love music then a musical road trip is just what you need to experience the history and sound of the various music genres from blues and jazz to gospel and even rock and roll. This trip down route 61 known as Blues Highway is filled with excitement for anyone interested in music.
This trip travels South on 61, commonly known as "the Blues Highway". You'll travel through Tennessee and Mississippi until your reach New Orleans, Louisiana. Along the way you will be able to stop and hear great music, see wonderful architecture and sample cuisine that made the South famous.
Although only a 9 hour drive from start to finish, this trip can easily you want to plan on it taking anywhere from ten days to 2 weeks if you want to get the full impact of what this trip has offer.
Here are just a few of the stops you are going to want to make on musical journey.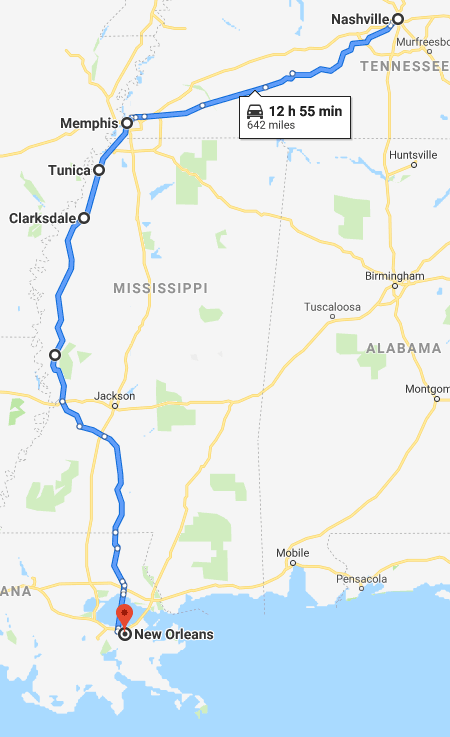 Nashville, Tennesee– The home of country music. You can tour the Grand Ole Opry, listen to some great country music performances and soak up the rich history of 'Music City'. While you are there don't miss out the town's fiery fried chicken and fluffy butter milk biscuits all washed down with some Southern sweet tea.
Memphis, Tennessee– Visit the Stax Museum of American Soul Music and Elvis's childhood home. While here spend some time at the National Civil Rights Museum or stop and see the Peabody ducks a hit among visitors and locals alike.
Tunica, Mississippi– Stop here and take in the Gateway to the Blues visitors Center and museum during the day, then after a great dinner why not take in a great show at the Ground Zero Blues Club. And if you looking to take a break from music there are some great hiking in the area.
Clarksdale, Mississippi – Learn some of the history regarding the blues at the Delta Blues Museum. For great food try some shrimp and grits, fried catfish or some steamy crayfish. You can also get out into the sunshine and take a canoe trip on the Mighty Mississippi.
New Orleans, Louisiana– The home of jazz music you can enjoy music in street as you visit such great places as the French Quarter and historic Bourbon street with it's stunning architecture. Don't forget to indulge in some of creole cuisine in this city of diversity.
What could make a better road trip than great music, a rich history, and some of the finest dining this country has to offer?
When planning your trip, make sure you pack properly for the weather at the time of year you'll be driving. Find the best time to hit the road each day of your trip with the app that helps you find the best time to leave -DriveWeather.
The Grand Loop is 142 miles around and many people only travel ½ the loop at a time. Here are just of the highlights you might want to plan to see during your visit to Yellowstone.
Any of the 290 waterfalls within the park
A petrified forest
Geysers, especially Old Faithful
Wild life including Bison, Elk, Moose, Proghorn, Bear (including the Grizzly), gray wolf, and several other animals and birds.
For activities there's rafting, hiking, horseback riding, swimming and enjoying a soak in the hot springs.
Temperatures and road conditions vary greatly throughout the year in this part of the country so make sure to pack some warm clothing and rain gear. And always check the weather before heading out to drive.