Olympic Peninsula Road Trip

This loop around the Olympic Peninsula will take you through both wilderness and some typical Washington communities allowing you to really get a taste of what Washington's West coast is all about. Along the way you will be able to explore a rain forest, the Olympic National Park, A typical Washington beach and some lovely old buildings. And your adventure will begin with a ferry ride from Seattle to Bremerton.
Some Must See Places Include:
Martin Farm and Winery- Before leaving Carova why not take an afternoon and visit this farm and winery and pick some fresh fruit to take along on your road trip.
Wright Brothers National Memorial- Visit the very spot where the first controlled powered flight took place. This site is full of historical markers, a camp replica as well as a replica of the Wright brothers' powered flyer. An interesting bit of aviation history for you to explore.
Richard Etheridge Statute- Stop by the Pea Island cookhouse and take the time to pay tribute to the statute of Richard Etheridge, the first US African American life saver and early civil rights leader.
The Lost Colony- located on Roanoke Island this is where the lost colony of Roanoke disappeared from. Then visit the Elizabethan gardens next door and make a stop at the nearby aquarium.
Jennette's Pier- Try your hand at some Outer Banks Fishing right off this pier or just walk the length of the pier taking in the fresh air and sunshine.
Bodie Island Lighthouse- This the third of the island Lighthouses was finished in 1872 and is open for you to explore to your heart's content.
Pea Island National Wildlife Refuge- This wildlife refuge is filled with a number of interesting birds including: American Arocet, American Coot, Black Bellied Plover, Black Skimmer, Brown Pelican, Canvas Back, Great Blue Huron, Great Egret and many other bird species.
Cape Hatteras Lighthouse- Climbing the 257 steps of this lighthouse will give you bragging rights for having climbed the tallest brick lighthouse in the world. It is recommended that you bring a bottle of water with you to quench your thirst after that long walk up and then down.
Grave Yard of The Atlantic- The Outer banks is a rough place for ships and you can learn a good deal regarding Maritime history and the ships that went down in these waters. After learning a bit of the history you can free dive to find and explore some of the shipwrecks.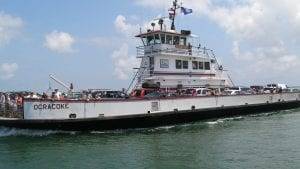 Hatteras-Ocracoke Ferry and Ocracoke Island- Take a relaxing ferry ride to Orcracoke island and spend some time swimming or sunning on the beach before exploring the Island's 19th century lighthouse, visiting the British cemetery, and Teachers Hole the home of Blackbeard the pirate exhibit.
Traveling this route between early spring and early summer before the Atlantic weather sets in will help provide your travels with the best weather conditions, but it's always wise to check the weather before starting out to any exploring.