The Great River Road trip follows the might Mississippi River from its origin in Minnesota to the Gulf of Mexico. If you are looking to travel through a large portion of this country in a single road trip then consider this epic journey that will lead you through 10 states and more than 20 major cities.
White signs painted with green wheels that mark the entire length of the route. When traveling through so many states weather may be unpredictable so make sure that you pack for every eventuality and check the weather each day before hitting the road or site seeing. Here is one in each state that may peak your interest.
Fort Snelling Minnesota– Built in the 1820's this fort was once the western most fort on the frontier. You can take a tour of this fort and see some old fashioned demonstrations.
Nelson Dewy State Park and Stonefield Historic site- Wisconsin Nelson Dewy State Park offers visitors a great view of the Mighty Mississippi from a cliff, while the Stonefield historic site let's the whole family experience what a farming village in Wisconsin was like in the 1800s.
Buffalo Bill Museum– Iowa Here you will not only learn something about the legendary Buffalo Bill's Life, you will also learn a lot about the history of the Mississippi and steamboats that travel up and down the mighty river.
Chain of Rocks Bridge– Illinois Although this bridge is closed especially to car traffic, it is still worth viewing when making your way along the Mississippi.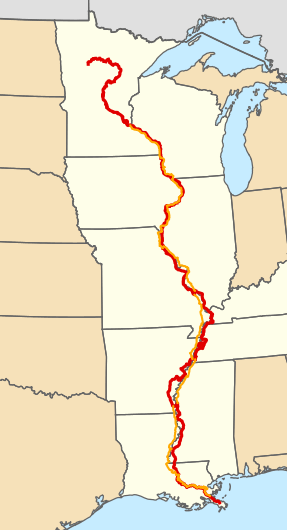 Trail of Tears State Park– Missouri Trail of Tears State Park is sad reminder of our history since it marks the place where 9 of the Cherokee groups were forced to cross the Mississippi during the winter of 1838 and 1839.
Wickliffe Mounds– Kentucky Wickliffe mounds is a prehistoric Mississippian cultural archaeological site. Visitors can go on a walking tour and there are activities for children to enjoy.
Mud Island Park– Tennessee Here you can get out of the car and enjoy some kayaking or stand up paddle boarding as well as check out a model of your road trip along the River walk.
Lakeport Plantation– Arkansas This beautiful plantation has been turned into a museum.
Blues Alley-Mississippi Stop here to learn more about where the blues was born at the Delta Blues Museum and the Muddy Alley Gallery
Historic New Orleans Collection– Louisiana Located in the Historic French quarter the Historic New Orleans collection is a museum, cultural center and publisher. Viewing the exhibits are free and there is only a small charge for the tours.
For this trip of a lifetime you are going to want to come prepare with a lot of traveling games and plenty of snacks.