Montana Road Trip Going-To-The-Sun

Some of the Must-See Places:
Known as Downeast Maine, Exploring the Maine Lobster Trail via Route 1 will take you through forests and along the rugged ocean coasts. This road trip is ideal for those who enjoy majestic ocean views, want to get out of the car to explore lighthouses, and hiking trails and do a bit of clam digging. Of course you will get to enjoy tasting not only great lobster dishes but a lot of other seafood as well.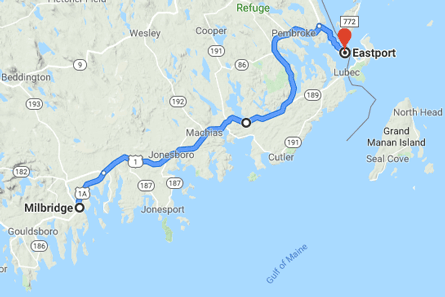 McClellan Park- This small rocky coastal park offers some great ocean views and there are also a few camping sites for those looking to camp their way along this trail.
Bad Little Falls Park- Right in the town of Machias, this little park is worth a brief stop if for nothing more than getting a good look at the waterfall within the park. It's also a nice place to enjoy lunch at one of the picnic tables.
Lighthouses- There are only a couple of lighthouses along this part of the coast. One of the lighthouses is Milbridge and is privately owned. The other is at Eastport both are best viewed from the water.
Clam Digging- Clam digging is something most of the visitors enjoy trying. There is nothing quite like digging your own clams and then cooking them on the beach. You do need to to check in with the local municipal building as there is a charge for a permit.
The Mermaid- A bronze statute that sits at the waterfront in Eastport, Maine. There is also a statute of a fisherman nearby, both statutes are worth taking a look at while in the city.
Eastport Breakaway Gallery- This gallery is a great place for browsing and finding hand made gifts and jewelry as well as paintings done by local artists. Enjoy a unique shopping experience in a friendly atmosphere.
Eastport Windjammers Boat Tours- Whale watching is a great way to spend an afternoon. As part of the experience you get to pull up a few lobster traps, hold a crab, starfish and sea urchins.
Raye's Mustard Mill and Museum- See how stone ground mustard is really made and then sample several different types. This stop offers something both educational and tasty.
While there are plenty of warm summer days for you to enjoy on this lobster trail, the Atlantic is known for some unpredictable weather so make sure to check the weather when planning each day's activities.