Olympic Peninsula Road Trip

This loop around the Olympic Peninsula will take you through both wilderness and some typical Washington communities allowing you to really get a taste of what Washington's West coast is all about. Along the way you will be able to explore a rain forest, the Olympic National Park, A typical Washington beach and some lovely old buildings. And your adventure will begin with a ferry ride from Seattle to Bremerton.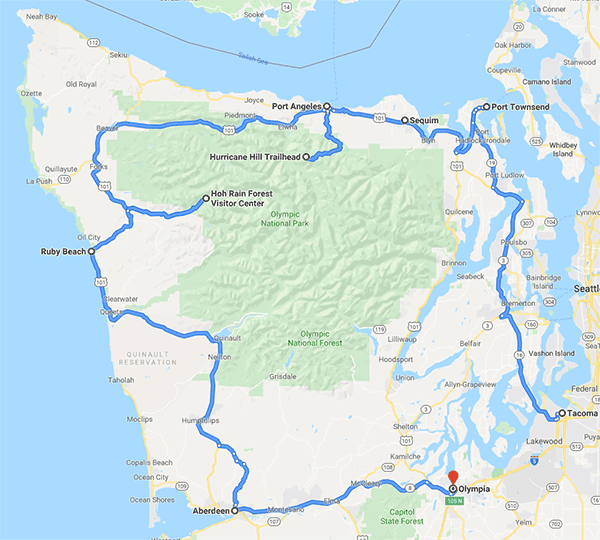 Some Must See Places Include:
Port Townsend- This little town has historic buildings such as the Jefferson County Courthouse and the Carnegie Library. Since one of the major industries of this town is seafood, its a great place to stop and eat lunch. You can also take a longer break and take a mile hike past towering trees to Marymere Falls.
Sequim- For those traveling through the Olympic Peninsula through June and July consider a visit one of the many lavender farms in the area. The scent alone walking through a field of lavender makes the stop well worth your while.
Port Angeles- The Feiro Marine Life Center is a great place for you to learn more about about the native marine life. In addition, the historic downtown area is also a fun place to explore.
Hurricane Ridge- Taking a hike up into the Olympic Mountains along Hurricane Ridge gives you a great opportunity to get out of the car and stretch your legs with easy access to the Olympic National Park. It is recommended that you check with the park service's website to get an update on the park road conditions before heading out for your hike.
You can drive to the visitors center on the ridge and then take a number of different hiking trails for stunning views of the mountains. Some of the trails are paved for easy hiking.
The rugged coastline of Ruby BeachHoh Rainforest- Part of the Olympic National Forest, the Hoh Rainforest is both eerie and magical. The rainforest has some well defined paths you can walk down. Spend an hour or two wandering through this forest and you are sure to feel rejuvenated and refreshed.
Ruby Beach- A typical example of a rocky Washington beach, this rugged coastline beach is a great place to listen to crashing waves and spot different marine creatures among the rocks.
Aberdeen- Home of Kurt Cobain and the perfect place to end your road trip of the Olympic peninsula.
Keep in mind that this region of Washington can get rain at any time so make sure to pack waterproof hiking boots and rain gear while exploring the Olympic Peninsula and always check the weather before heading out on any long drives or hikes.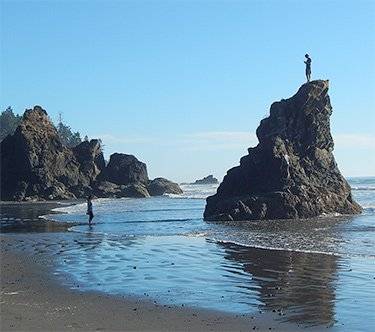 Some Must See Places Include: