Pacific Coast Highway Road Trip

Road Trip on the Pacific Coast Highway from San Francisco to San Diego Considered to be one of the most beautiful road trips in the United States traveling the Pacific Coast Highway from San Francisco to San Diego is an adventure that is well worth your time.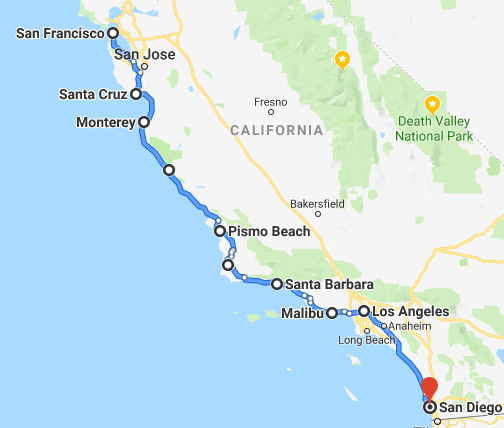 Pacific Coast Road Trip Summary:
START: San Francisco, California
END: San Diego, California
MAJOR ROAD TRAVELED: Pacific Coast Highway (a.k.a. California State Route 1)
DISTANCE: 586 miles
DRIVING TIME: 12 hours
BEST TIME: End of September through October
While this road trip can be completed in one very long day of driving it is well worth any extra time spent as there are a number of interesting and enjoyable activities you can engage in along the entire route.
Besides, fabulous ocean views, there are plenty of State Parks that offer hiking trails, as well as some historical sites you won't want to miss.
Here are just a few of the highlights you will find along your route:
Winchester Mystery House, San Jose. This 165 room house have staircases leading up to the ceiling and actually go no place else. The house was built by Sara Winchester on instructions from her medium.
Enjoy A Picnic on the Cliff at half moon bay and enjoy an incredible view.
Check out the Beach Walk in Santa Cruz
Fisherman's Wharf Is well worth a stop and the experience at Monterey Bay. Fisherman's Warf
Whale Watching again at Monterey Bay https://www.blueoceanwhalewatch.com/
Big Sur There are a ton of activities at Big Sur for you to enjoy so you may want to spend an entire day visiting the natural hot springs, seeing McWay Falls and taking in some of the other sites in the area.  Big Sur
Hearst Castle in San Simeon. No trip along the Pacific Coast highway would be complete without stopping to visit Hearst Castle. Covering over 250,000 acres it's worth checking out some of the rooms, suites, cottages, kitchen, and the grounds of this huge beautiful estate. Hearst Castle
Planning Your Trip
Because there are so many different things to see and do along the Pacific Coast Highway, you should plan your trip in advance and arrange enough time to partake in all the sights and activities that you want to enjoy.
While fog is at its worst during the months of June, July, and August you could still get some pretty foggy days in September and October so make sure you check the weather conditions for your road trip before starting out each day.
Other Road Trips
Check out these other costal road trips.
Washington Oregon Coast Road Trip | Olympic Peninsula Road Trip