Pacific Coast Highway Road Trip

The Pacific Coast Highway road trip from San Francisco to San Diego is one of the most beautiful road trips in the United States. Traveling along the shores of the Pacific Coast Highway (Highway 1) is an adventure that is worth your time and effort.
Anyone can complete this trip in an extremely long day of driving; however, it is worth taking the time to plan a leisurely drive. The ocean view alone is mesmerizing – it can be stared at for hours. Driving north to south will keep you in the lane closet to the ocean providing a spectacular view the entire drive. Besides the beautiful ocean view along the way there are historical sites  and several State Parks you will not want to miss. Since there are so many different things to see and do along the Pacific Coast Highway, you should plan your trip in advance. Planning allows you to arrange enough time to enjoy more sights and activities along the way.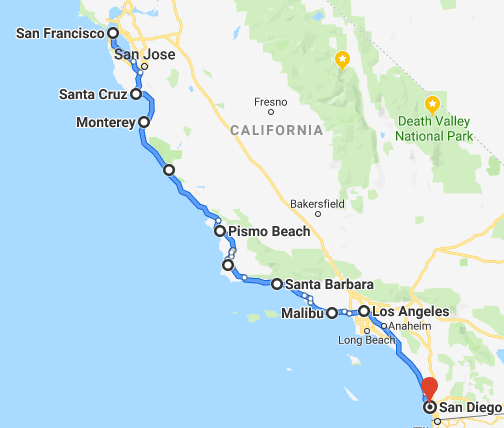 Make sure to note the weather during your planning phase. Fog is at its worst during the months of June, July, and August. However, September and October may also be a bit foggy. So, make sure you check the weather conditions for your road trip before starting out each day.  Drive Weather app is a great way to monitor the weather along the way. Travel safe and have a great trip!
Here are just a few of the highlights you will find along your route:
Muir Woods National Monument
– A great place to start your trip. Just north of San Francisco Muir Woods is part of California's Golden Gate Recreational Area. This park maintains paths that wind through the 1,000 year old, towering redwood trees that stretch hundreds of feet to the sky.
Winchester Mystery House –
Located in San Jose, CA, this 165 room house was built by Sara Winchester designed by instructions from her medium. An enchanting house with staircases leading up to the ceiling, going no place.
Half Moon Bay
  – One of the oldest settlements in San Mateo County. Enjoy a leisurely stroll through the historic downtown or a picnic on the cliff at half moon bay. An incredible view!
Fisherman's Wharf
– A beautiful seaside town where you can go whale watching or observe other sea life, like sea otters, seals and pelicans, go deep sea fishing or simply relax and enjoy a beautiful sunset.
Mission San Luis Obispo de Tolosa
– An 18th-century mission located midway between San Francisco and Los Angeles at the junction of Hwy-1 and US-101.
Big Sur  – There are a ton of activities at Big Sur to enjoy. You may even want to spend an entire day visiting the natural hot springs, McWay Falls or the amazing beaches and coastline.
Hearst Castle– No trip along the Pacific Coast highway would be complete without stopping to visit Hearst Castle. Covering over 250,000 acres it's worth checking out some of the rooms, suites, cottages, kitchen, and the grounds of this huge beautiful estate.
Old Point Loma Lighthouse – A great way to finish your trip. Located in San Diego on Point Loma, this is an historic lighthouse. Built in 1855 it is no longer in operation, it is now a museum open for public visitation.